Day 1 – Arrival and Jeddah Historical City
On the first day, we will take things very easy. We will be meeting you at the airport throughout the day, checking in the hotel and, around 4pm, we will head all together to Al Balad, the historical city of Jeddah and a UNESCO World Heritage site.
Al Balad was established 1,300 years ago as the gateway for Muslims on their way to Mecca, mostly arriving by sea from Africa. It's a lively area composed of buildings with colorful windows, narrow streets, and a great local life that turns into a bustling and vibrant area right before sunset.
At the end of the visit, we will have our first dinner together in one of the local restaurants.
Overnight in Jeddah.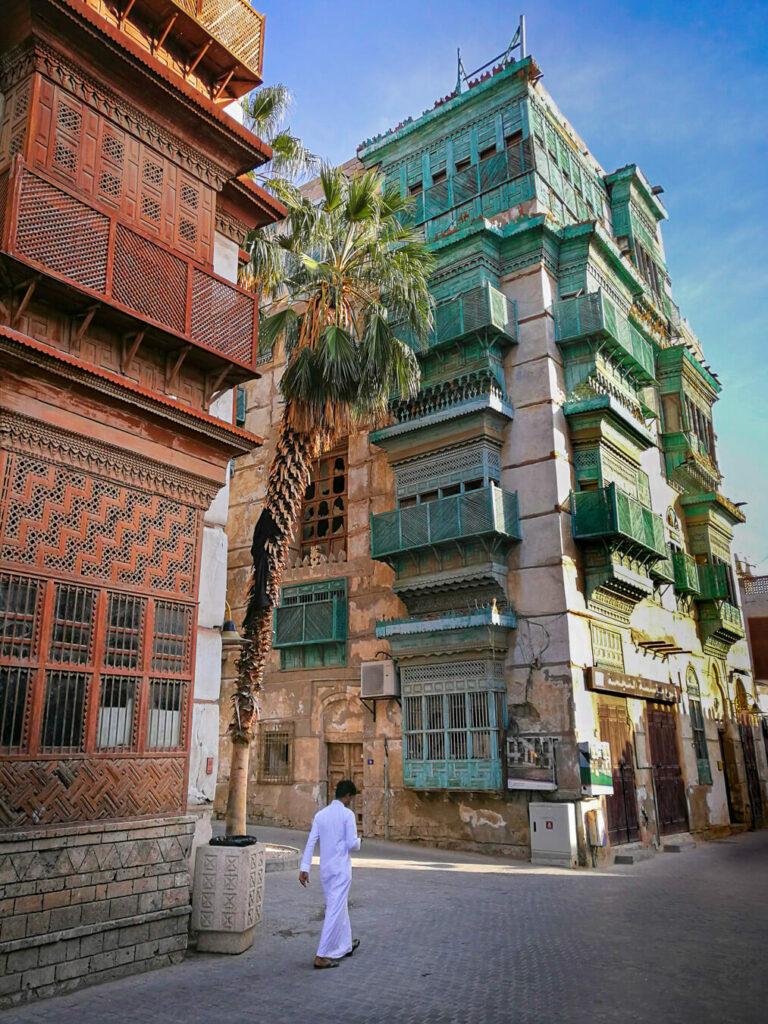 Day 2 – Yanbu
After an early breakfast, we will head for Yanbu, a 2500-year-old town, which used to be an important stopover for traders sailing from Yemen to Egypt. Today, Yanbu is an important trading point with one of the largest petrochemical complexes in the country.
It also has a pretty well-preserved old town, which is packed with seafood restaurants, but the most awesome thing about Yanbu is that its shores are not far away from absolutely stunning coral reefs.
For that, we will spend the whole day on a boat, looking for dreamy islands, snorkeling and just hanging out. There is the possibility of scuba-diving too.
Overnight in Yanbu.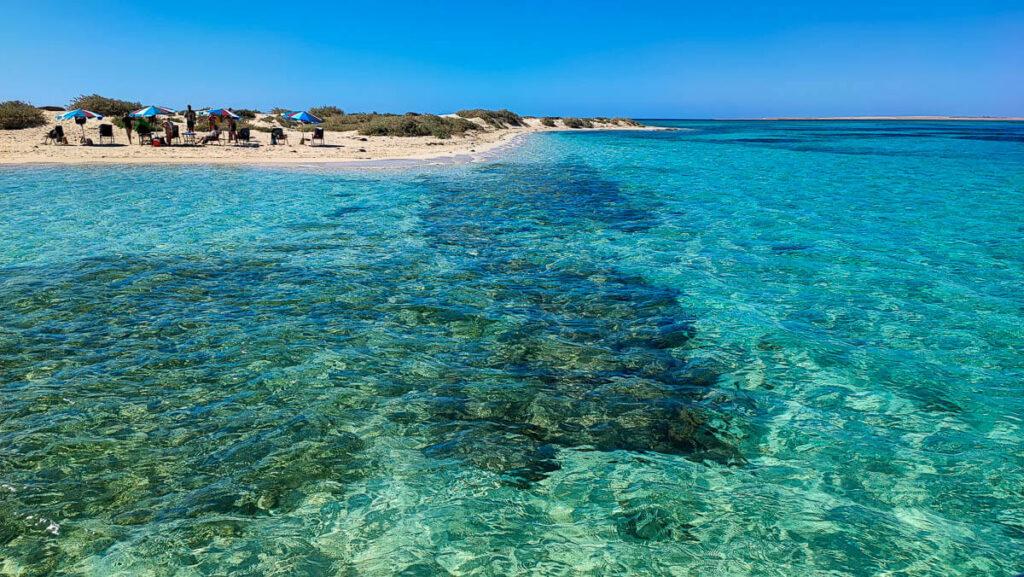 Day 3 – Medina, overnight in Al Ula
On day 3, you will be able to say that you were one of the very first Western tourists to visit Medina, the second holiest place in Islam after Mecca, and a city which until very recently, was off-limits to non-Muslims.
Medina is the place where Prophet Muhammad is buried, so it's a pretty big deal. Technically, we are not allowed to go inside the mosque, but the surrounding atmosphere is pretty cool, and definitely worth the visit.
In the evening, we will drive all the way to Al Ula.
Overnight in Al Ula.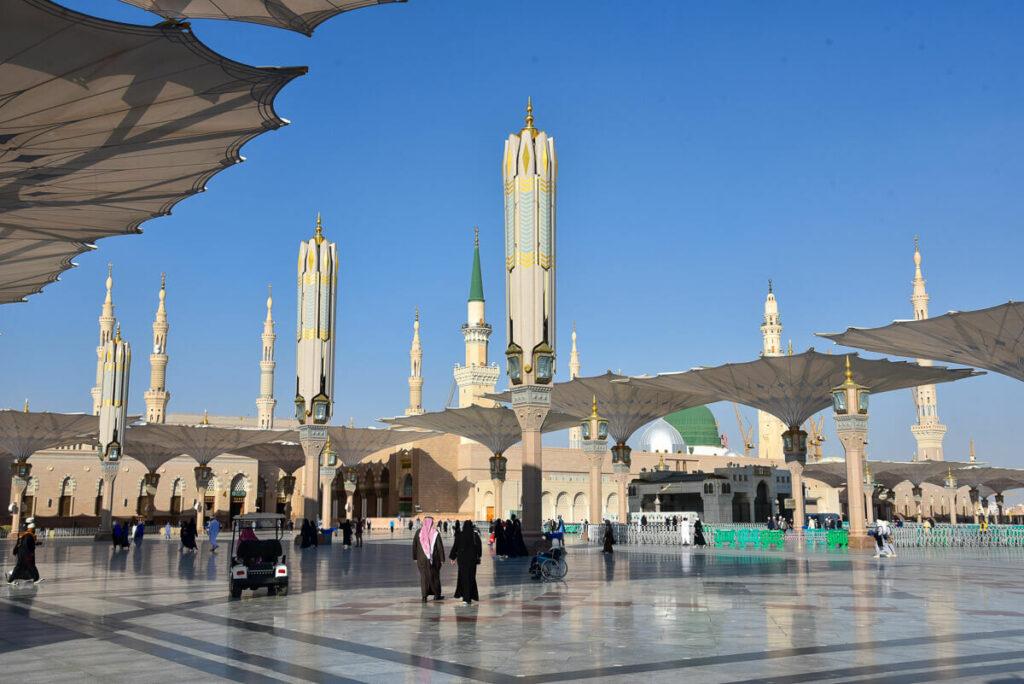 Day 4 – Al Ula
The fourth day will be an even more exciting day because Al Ula is home to Madinah Saleh, the most iconic historical site in the Kingdom of Saudi Arabia.
Madinah Saleh, or Hegra, was an ancient city founded by local tribes 5000 years ago, but it was not until the 2nd century BC that the Nabateans, the same guys that built Petra in Jordan, made it a great city, so that it could serve as the new capital if the Romans conquered Petra.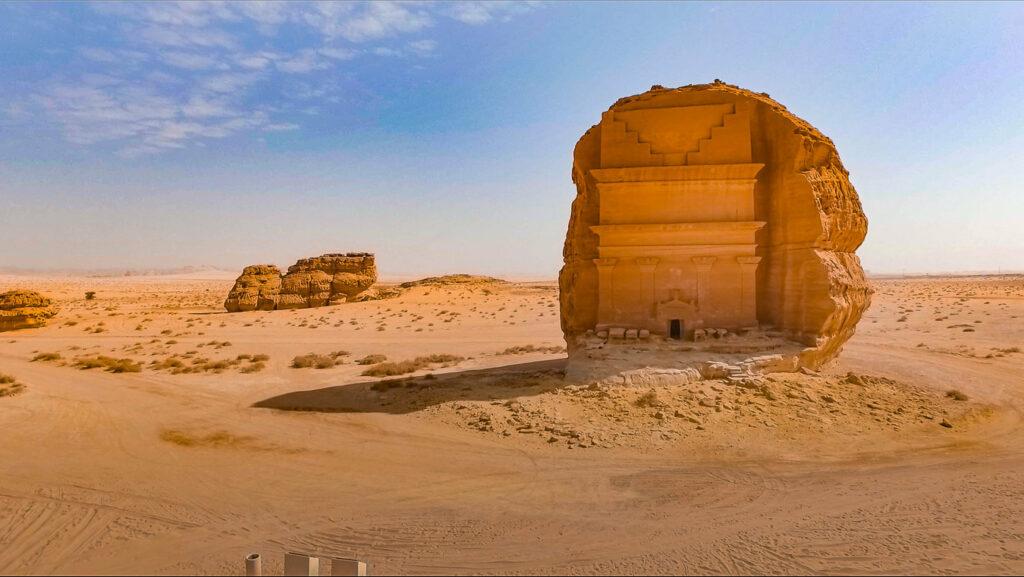 The Romans did conquer both cities, Hegra and Petra, but the more than 100 jaw-dropping tombs carved from the giant desert rocks still remain, and I find it more stunning than Petra because it is located in the middle of nowhere.
With our private vintage Jeep, we will drive all around the area, visiting all the highlights.
Then, we will also check Hejaz Railway, a railway station built by the Ottomans in the 19th century, serving as a link between Damascus (Syria) and the holy city of Makkah
On the way back to the historical village of Al-Ula, we will pass by the Elephant Rock, one of the most impressive geologic marvels in the area, a massive Elephant-shaped monolithic red sandstone.
Dinner and overnight in Al Ula.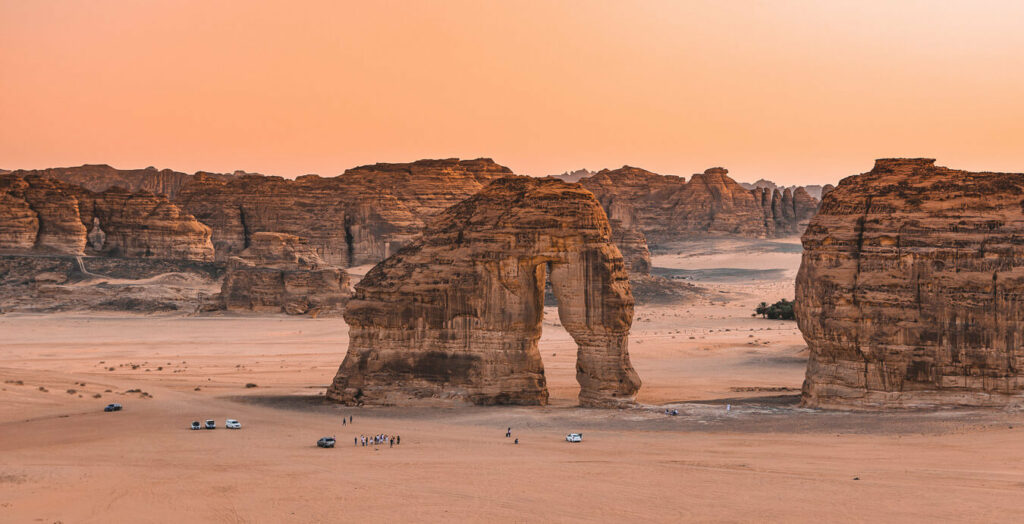 Day 5 – Tabuk
Early morning, we will drive north towards Tabuk, a northern province bordering Jordan.
On the way to Tabuk, we will first drive through Wadi Al Dissa, a 15-kilometer-long canyon with spectacular 500-meters cliffs, and our team of guides will prepare us a traditional lunch in the best possible location with the best view.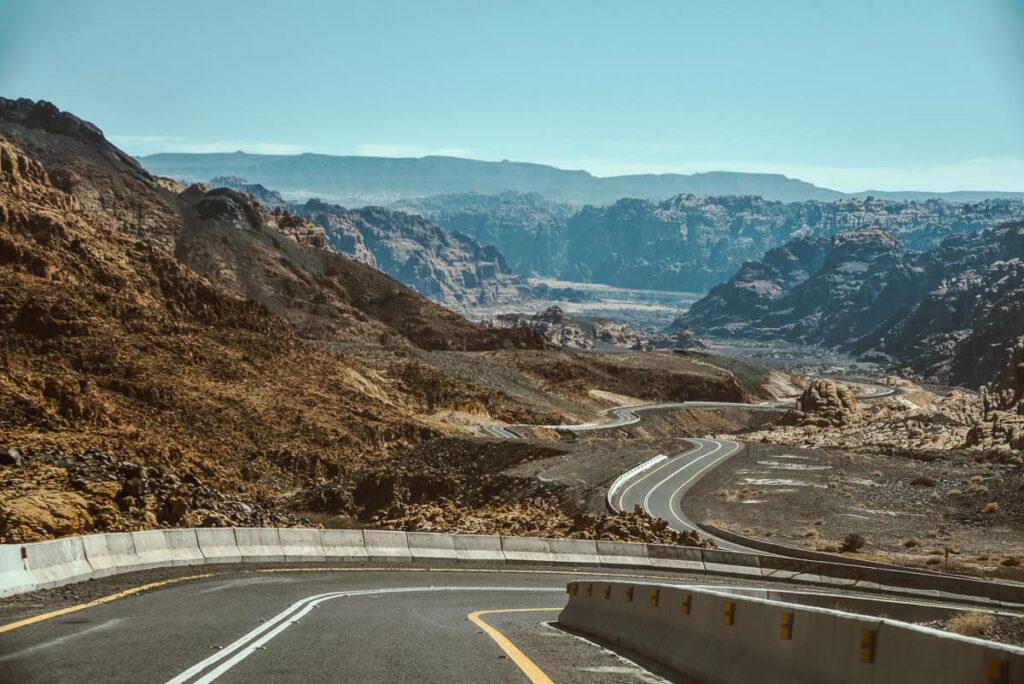 After lunch, we will drive towards Wadi Bajda, another highlight of the expedition.
Have you ever been to Wadi Rum in Jordan?
Wadi Bajda is exactly like Wadi Rum, but without tourists and authentic Saudi Bedouins.
Overnight in Wadi Bajda, in a desert campsite.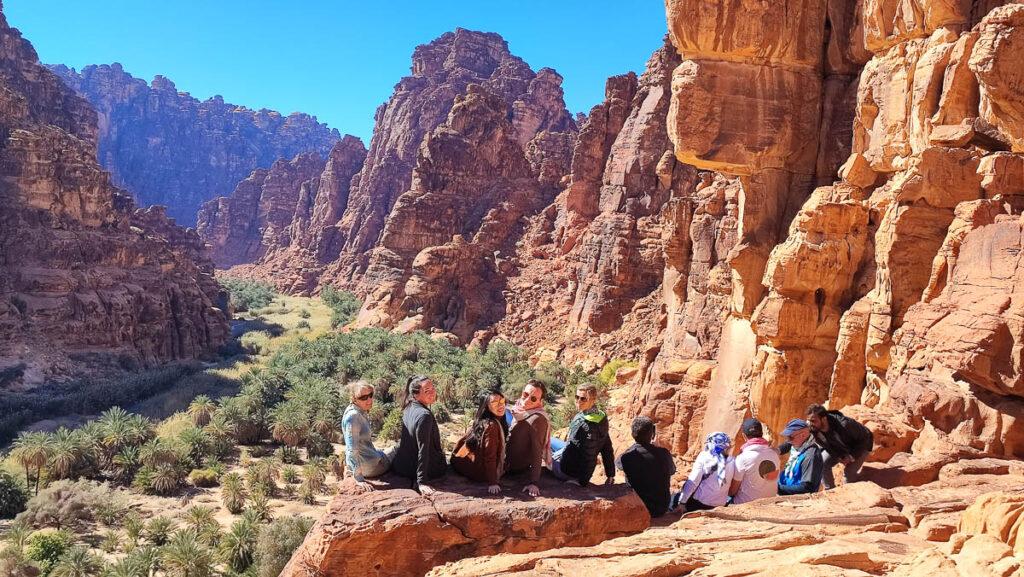 Day 6 – Tabuk
After having a hearty breakfast with our Bedouin family, we will start exploring Wadi Bajda with our SUV cars, driving through red sand dunes, visiting camel farms, and jaw-dropping desert scenery.
In the evening, we will head back to Tabuk city to visit some of its highlights.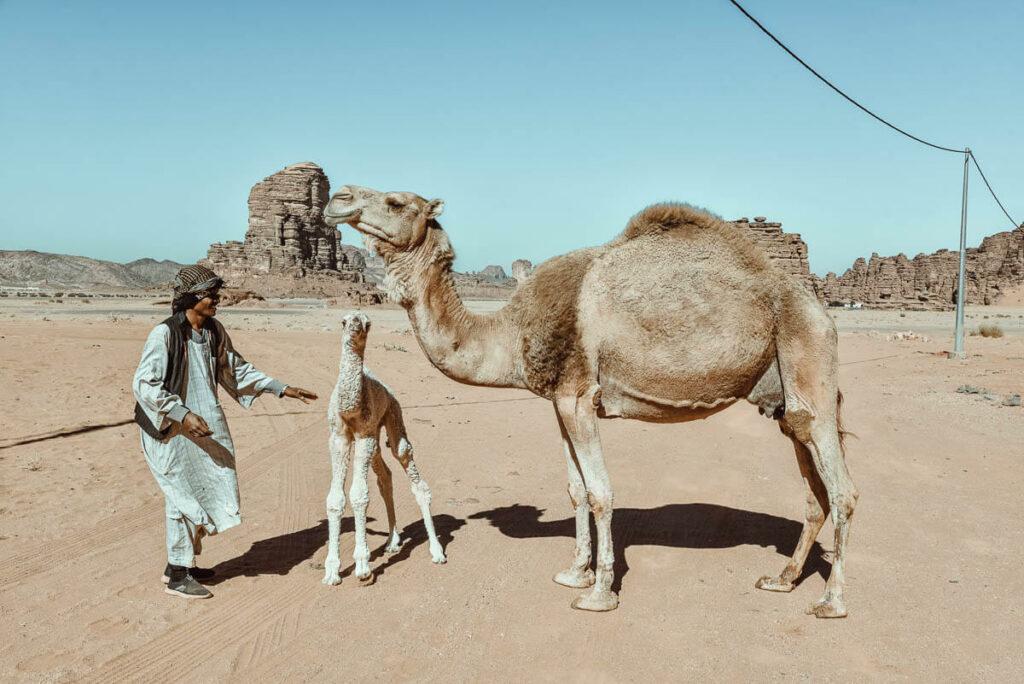 Day 7 – Flight back to Jeddah
On the last day, we will all fly back to Jeddah, therefore saving a 1000km journey by road.
The trip ends in Jeddah airport.